With the rising incidence of myopia, strategies to slow myopia progression are becoming increasingly important for eye care practitioners to understand and implement. Orthokeratology is an excellent option for myopia control management as well as for treating refractive error in both children and adults.
Orthokeratology (also known as Ortho-K) is a non-surgical corneal reshaping of the eye using night-time custom contact lenses; this process allows individuals to enjoy an active lifestyle without the need to wear glasses or contact lenses in the day. There is no cutting and it is reversible. To many parents, they find that it is one of the most effective way for myopia control. For many people, it's an attractive alternative to LASIK.
Ortho-K is the fitting of specially designed gas permeable contact lenses that you wear overnight. While you are asleep, the lenses gently reshape the front surface of your eye (cornea) so you can see clearly the following day after you remove the lenses when you wake up.
Only highly "breathable" GP lenses that have been FDA approved for overnight wear should be used for orthokeratology.
Suitable for Many
1.Anyone with low to high myopia can be accessed for suitability of wear
2.Children who are active and with myopia
3.Teenagers whose myopia continues to increase
4.Adults whose occupations do not encourage or allow eyewear
Long Term Benefit for Growing Children
With myopia controlled, the risk of eye health problems related to myopia such as retinal detachment, floater etc. is significantly reduced.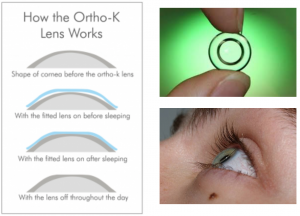 The Orthokeratology Process
If your eye care professional feels you are a good candidate for orthokeratology, you will wear specially designed GP lenses at night only. In the one- to two-week treatment phase, your nearsightedness is gradually reduced. Since your vision will be changing, you'll need to wear disposable soft lenses during the day.
Once the treatment is over, you can wear the Ortho-K lenses at night only and see well during the day without any corrective lenses.
Some people need to wear their lenses only every other night, or even once or twice a week, to maintain the effect.
You will need to see your eye care professional regularly to ensure your lenses are fitting well and your eyes are healthy.
Since during sleep the lenses fit tightly on the eye, it's especially important to clean and disinfect the lenses upon removal each morning.
Ortho-K: Great for Sports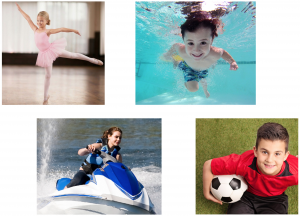 Young people whose nearsightedness is progressively increasing are often excellent candidates for orthokeratology. Studies have found that these specially designed Ortho-K lenses can reduce existing myopia when worn overnight.
As young people are very active athletically, this often allows them visual freedom to play sports without wearing eyeglasses or contacts.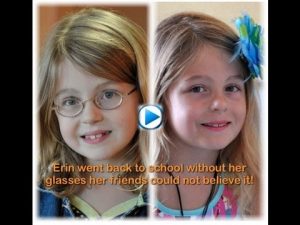 Orthokeratology and Myopia Control
In addition to the benefit of lens-free daytime vision, orthokeratology is starting to be appreciated for its ability to slow the progression of myopia. A number of published clinical studies have found that orthokeratology lens designs inhibit the growth of the eye's axial length, which determines the degree of myopia.
Ortho-K is very safe, non-invasive and reversible.
There are no known adverse side effects reported to the FDA (Food and Drug Administration, USA). An additional key safety benefit of Ortho-K is that if you stop wearing the lenses, your vision will return to previous levels.
Keep in mind that there is a risk involved for wearing any form of contact lens when individuals do not adhere to the scrupulous disinfection and care procedures (not limited to Ortho-K lenses only). Infection leading to vision loss is one of the most serious problem that may arise from improper lens care. Hence, it is very important to wear the lenses only as instructed and be present for all regular progress checks.
More Info / Consult doctor
Dr. Bird Vuthipong Puengpipat
E-mail : vpbirdod@gmail.com
Line ID : @drbirdcl
Location Doctor Vision : http://goo.gl/maps/QPUo2